The Set
This priceless signature set is a unique collection of 290 card signatures on 107 box score game cards … all in one set.  It includes over 85 HOF signatures and 119 signatures by players that have passed away since signing a card.
Rare to say the least1  
Note: An enormous amount of documentation is available to support the authenticity of each and every autograph.  A PowerPoint presentation is available upon request.  Click the series icon below to view each series OF autographs. 
We say this without reservation "This set with it's signatures has no equal".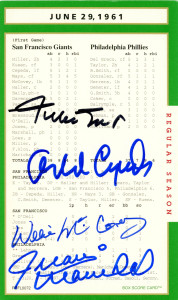 Regular Season Signatures (listing)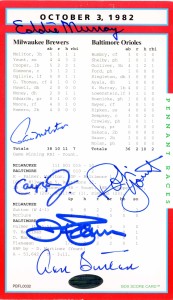 Pennant Races Signatures (listing)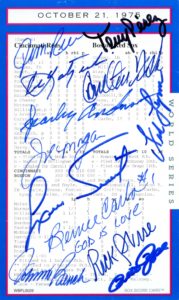 World Series Signatures (listing)
Overview: This special signature set includes signatures from the 1932 World Series card (Ruth's called shot game); to the first ever  Colorado Rockie game (1993) when Bob Smith threw a shutout for the Rockies. And in between? There are famous home run signatures such as: 1941 All Star box score game card (Ted Williams), 1946 AL play-off (Lou Boudreau),1951 NL play-off (Bobby Thomson), 1954 (Dusty Rhodes), 1960 WS (Bill Mazeroski), 1975 (Carlton Fisk), 1977 WS (Reggie Jackson), !987  RS (Mark McGwire), 1988 WS (Kirk Gibson) and 1993 WS (Joe Carter). That's only touching the surface with historic game signatures such as Mel Harder's on the 1933 All Star box score.  You say what? Well remember Carl Hubbell's performance in that game, Harder pitched five shutout innings. And there are multiple signature box score game cards as well: the Impossible Dream Team (1967 – ten signatures), the Miracle Mets (1969 – eight signatures), 1962 NL playoff Dodgers & Giants (six Hall-of-Famers) and the 1975 WS Fenway classic (ten signatures – seven Hall-of-Famers). All on box score game cards!   Every tom-dick-and-harry has signatures on balls, bats, gloves, hats, shirts you name it … but box score game cards with over 100  deceased players.  As we said above – PRICELESS!  Enjoy viewing the signatures & cards.  

_________________________________________________
The  Photo-graphic Corporation of New England
177 Old Bedford Road, Concord, MA 01742
Box score products are copyrighted & registered trademarks 2021
Contact: dxcoffey@boxscorecards.com