T
Baseball's …
The Original Book Set:
This Box Score Collector's Set is without question one of the most remarkable baseball products ever produced.  Divided into four extraordinary series and tied together through 216 classic box score games and stories, this set is a dynamic history of professional baseball … taking you from the first recorded box score in 1845 to the mid 1990's.  But this set is more than just box scores and reverse side short stories … it's a true insight into the evolution of baseball and American history as seen thru analytics, the 'Box Score'.
A rare collectible.   
A little history:
All the research, design layouts, graphics and typesetting was done from 1985 to 1992.  A period when there was only desktop technology and the internet was basically nonexistent.  This was a period when access to historic baseball data was difficult to obtain (to say the least) and  if existing, took months to retrieve, confirm and convert.
Convert:
You say convert! This was the stone age … type writer to 5 1/4  floppies to 2 1/4 IBM floppies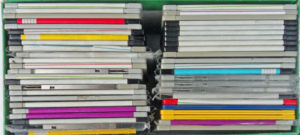 , to Mac graphic discs to film. In all, three conversions of over one million characters per conversion that had to be proofed and signed off each time.  And while this was going on, our printer's partner decided to blew away (as in bang, bang) his other two partners.  What a nightmare that was. But finally with all the data and trademarks in place, this first ever box score set became a reality.
Set includes:
Players: Such as Honus Wagner, Sandy Koufax, Ty Cobb, Babe Ruth, Hank Aaron, Willie Mays, Stan Musial, Ted Williams, Joe DiMaggio, Lou Boudreau, Cap Anson, Johnny Bench, Jackie Robinson, Reggie Jackson, John Smoltz, Duke Snider, Robin Yount, Mike Schmidt, Hal Newhouse, the Wright Brothers, the Waner Brothers, Al Spalding, Whitey Ford, Mickey Mantle, Frank Robinson, Brooks Robinson, Cal Ripken, Ed Murray and that's just a few of 'em!
Teams: All the modern era teams as well as historic teams such as the Knickerbockers, Cincinnati Red Stockings, Forest City, Troy Haymakers, Atlantics, Colt 45s, Brooklyn Dodgers, Empires, Gothams, Providence Grays, St Louis Browns, and many more.

Games: Historic games involving the Yankees, Red Sox, Cards, Dodgers, Giant, etc. … as well as games like the first Houston Colts 45 box score and the White Sox 29-run game.  
---
The set includes 216 cards (four series)
The first series, the Eighteen Hundred series is designed to give you a  feel for baseball's battle to survive in the 19th Century and the fan's need for more information as reflected in the constant changing of the box score.  There are 36 box score game cards in this series.
Eighteen Hundred Card: front side (historic box score) / back side (article)
The second series, Regular Season Card is designed to capture baseball's many eras, from Honus Wagner (1900's) to Sammy Sosa (1990's) and all the classic box score games in between. There are 108 box score game cards in this series.
Regular Season Card: front side (historic box score) / back side (article)
The third series, the Pennant Races Card illustrates (particularly on the 'newspaper' side of the card) how baseball, over the years has captivated towns, cities and countries. There are 36 box score game cards in this series.
Pennant Races Card:   front side (historic box score) / back side (article)
The fourth series, the  World Series needs no explanation, it's the history of  America's fall classic! There are 36 box score game cards in this series.
World Series Card: front side (historic box score) / back side (article)
Finally, this set was produced in 1994 and with that, certain games (cards) are even more valuable to date because of the records that have since been broken such as Roger Maris's sixty-first home run game. If you're a collector or serous baseball fan…this would be a set to consider.  A first-ever set, produced as a corporate premium item 1993… only 4000 plus were printed.  And 3000 of those set were put away for safe keeping. 
Pricing Details
| Option | Description | Price |
| --- | --- | --- |
| # 1 | Original Box Score Set (unsigned) | $ 125.00 |
| # 2 | Original Box Score Set (signed & numbered) | $ 175.00 |
Pricing: Includes handling, shipping and taxes.
Invoicing: PayPal
Certification Doc (below):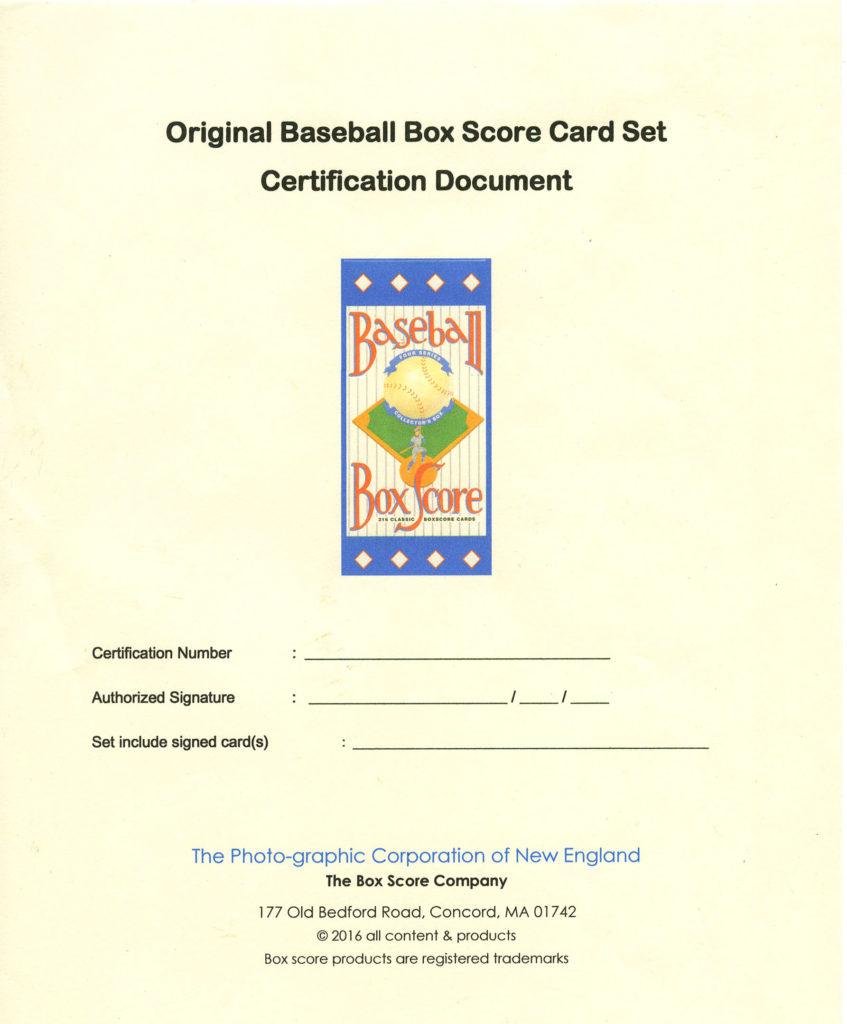 Contact:  dxcoffey@BoxScoreCards.com
---
           The  Photo-graphic Corporation of New England
               177 Old Bedford Road, Concord, MA 01742
                         © 2021 all content & products
             Box score products are registered trademarks